Wrought Iron name plates and house numbers
How to make your home noticeable and welcoming at the same time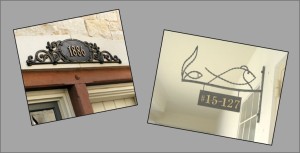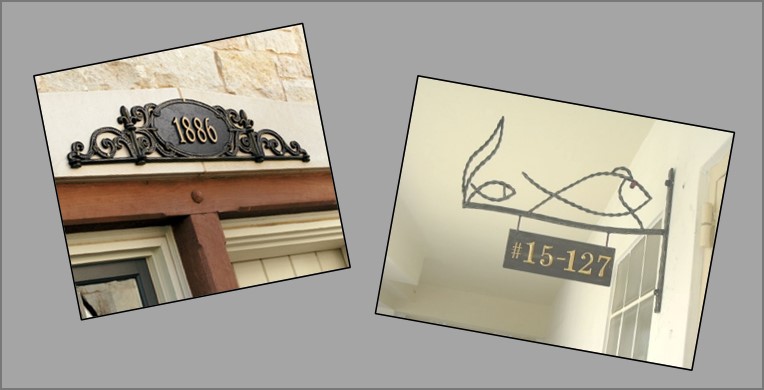 A dwelling that stands out from the rest and yet at the very first glance, seems homely and familiar offers the ideal look to any abode. The front door is the first aspect of a house, whether it's a cottage or an urban apartment, that a visitor experiences.  So how does one make a good first impression around this entry space of 1 by 2 metres?
We suggest a simple yet classic idea with the use of wrought iron.  Wrought iron is one of those things that either you adore or wouldn't even think of including in your décor.  Now for those of you, who have been rejecting the idea of wrought iron, we know what you may be thinking and you're not wrong!  Since it does have a dated reputation of being heavy and bulky.  Due to its adaptability it has been associated with ancient axes, cutlery, swords and even railway components.  But this only proves its durability and wide appeal.
So taking this classic material, our suggestion involves fixing an attractive name plate or house number plaque, made of wrought iron, either above or at the side of your front door.  Though it sounds plain, you will be surprised at how quickly your mundane entrance gets transformed into a classic showpiece!
Timeless benefits of Wrought Iron
The reasons why wrought iron is still the best material for artistic ornamentation:
Reason 1: Its high resistibility to corrosion and wear 'n tear
Reason 2: Traditionally known as 'the blacksmith's metal', it's easily malleable
Reason 3: It can be welded and honed into the most beautiful and intricate pieces of art
Reason 4: It lasts longer and requires zero maintenance
Reason 5: It reflects good taste!
Reason 6: There's a wide variety of finishing options such as paints or varnish that can help you personalize even better
Personalise your wrought iron plate in any way you desire
Though you may be familiar with an impression of wrought iron as projecting a boring metal look, the variations available today combine colours, textures and multiple design elements. So you can personalise not only the written matter such as name or house number, according to your preferences, but also add your touch of creative design to it.  Alphabets, numbers, your autograph… anything goes!
In urbanized Singapore where the majority lives in HDB or Condominium apartments, having a cute hanging plaque that matches your wrought iron door gate design certainly gives a lasting impression
For more assistance on your personalized wrought iron name plate needs, all you need to do is gives us a call.
http://window-grille-door.com/wp-content/uploads/Wrought-Iron-house-number-plates-WGD005IN.jpg
390
764
aekjobs
http://window-grille-door.com/wp-content/uploads/logo3.jpg
aekjobs
2014-10-15 14:49:25
2014-11-13 07:18:05
Wrought Iron name plates and house numbers