Service Yard Windows & Grilles
The Service Yard, aptly called a Poor Man's Balcony has become a common feature in new build HDB BTO flats and condominiums in Singapore.  Over the past few years, they have become a worthwhile inclusion in the floor plans of apartments providing many conveniences and benefits to homeowners.
Covering Service Yards with Windows and Grilles adds to their utility tremendously.
Why should you install Windows and Grilles for the Service Yard
In Singapore, homeowners would typically use this area for a variety of purposes such as Hanging Clothes, placing their Washing Machine, installing the Water Heater, or for general storage space. Being an extension to the unit and not a liveable area, it's usually open to the elements.
To improve its utility the first action required is have it covered and secured, which serves few key functions –
Prevents the rain from wetting the place – especially your clothes and appliances
Gives protection from the sun & strong winds (especially for high floors)
Provides security from intruders and thieves who may try to take advantage to get in
So, while new homeowners may not immediately realise the need to have Service Yard Windows & Grilles it will soon be necessity once they settle in.
Installing Windows for the Service Yard
Sliding Windows with 3 panels & 3 tracks are preferred as it allow all windows to be pushed to one side allowing enough open space when putting clothes out to dry.  The windows must also be similar in colour to the original windows provided by HDB.
It's necessary to adhere to HDB/MCST guidelines for window works to ensure compliance.  Good, reliable Window Contractors will ensure all screws/rivets used are of correct grade stainless steel material.
We are HDB/BCA approved Window Contractors with a track record of having inspected almost 8000 HDB rental flats to certify Windows are safe.  We help in submitting relevant forms to BCA/HDB as it's important for compliance and future convenience.
Our Service Yards Windows start from SGD 450 onwards, depending on frame and colour of the window glass.  For most BTO flats, Green colour glass is one used.
Installing External Grilles for the Service Yard
Installation of external grilles at the service yard is allowed, provided the grilles comply with the designs specified and is subject to HDB's prevailing policies and terms. Aluminium Window Grilles are the most commonly used with the colour of the grilles ranging from bronze, silver or white powder coated.  The choice of colour will usually be dependent on the external façade.  Below are the approved designs –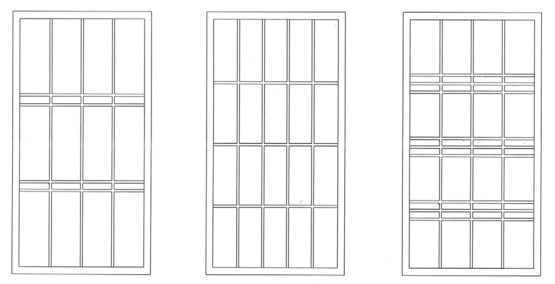 Our Service Yard Grilles range from $6 to $8 psf.
The team at Victorious Windows are certified HDB/BCA installers, experienced and well-equipped to help you make the most of your Service Yard.