Wrought Iron Grilles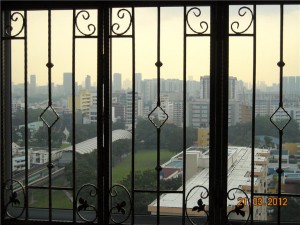 Grilles can combine safety with decorative qualities and therefore are a frequent window feature.  They predominantly aim at providing security and a neat, uniform appearance to any building or construction.  Over the years, various kinds of window grilles have emerged as per market needs.  They vary in material, design and application. But overall suit all types of houses, offices or commercial buildings.
If you desire to adorn your premises with a classic antique look, wrought iron grilles fit the bill aptly.  They add a traditional touch of class while being sturdy and durable.  Due to wrought iron's malleability, one can shape it into intricate patterns, transforming them into works of true art.  If you're creative by nature, these kinds are sure to appeal to your senses.  With the specialised heat treatment that wrought iron grilles receive, strength is assured even with a lower width profile.  And their beauty is on par with any window grille design available.
Designs and Themes with Wrought Iron
Sturdy wrought iron grilles can be moulded into any shape of desire, including shapes of flowers, leaves or birds.  And as far as our portfolio of design are concerned, we can even provide special thematic categories such as stars & moon, marine life, majestic, etc with exclusive designs in each category.
This variety is ideal for landed homes and ground level flats as this can set the overall appearance of the building.   Installing them on windows as well as doors and windows is ideal due to the increased protection that they offer.
In case you reside in a condominium, it's important to note that each condo management have unique guidelines to preserve the external look of the condo as a whole.  Hence, it's important to take these guidelines into consideration when selecting your grille pattern.
Choosing the right Grilles
A handy tip – If your window is a 3 panel window, your window grilles too are required to be of 3 panels, so plan accordingly! One can opt for wrought iron grilles on fixed pane or a sliding windows.  This depends entirely on the usage and purpose of that particular window.  Though a fixed window grille offers higher security, one ought to ensure that they aren't sealing off a potential emergency exit.
Wrought iron grilles can be paint coated for rust resistance and longevity.  This is usually sufficient for the indoor grilles that are not exposed to the elements.  The most popular colours used are black & golden or silver, this causes the shade of the grille to differ from that of the window thereby enhancing the look even further.  For external grilles (especially gates of landed houses) galvanized wrought iron is the recommended option.
For increased security, a lock with key system is ideal in grilles.  This becomes even more relevant when your window is along a corridor, one that is easily accessible from the exterior or if your family comprises of young children.  All our installations incorporate this feature