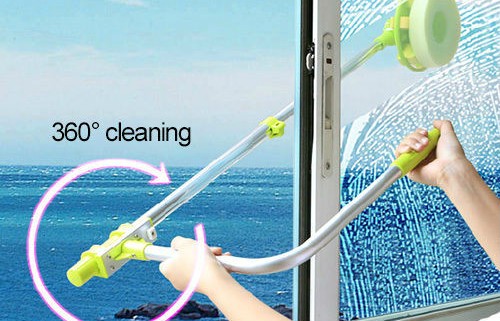 Window Cleaning on the Outside
Quick Hacks to clean your windows on the outside
Having sparkling clean windows certainly helps to bring out a positive atmosphere in a room. But most often than not windows are made out of Glass; whose transparency can quickly become obstructed with airborne particles, dust and pollutants. While cleaning windows on the inside is easy the challenge that every household faces is cleaning them on the outside.  In Singapore where 82% or more residents live in high rise HDB settlements, some as tall as 40 floors makes any ladder, broom or tool difficult to reach the exterior of windows from the ground level. So, here let me present some handy tools and tips that can help you keep your windows spic & span on the outside.
Clean
ing

the Outside from the Inside

Let me share two options, first one is the ubiquitous brush but not an ordinary one.  While the other is a cleverly designed mini system in itself.  Eager to know more? Lets go…
The U-shaped Brush
This tool is actually a complete window cleaning kit. The kit includes a telescopic handle, soft covered washable cleaning head; squeegee head and spare washable cleaning head cover.  It facilitates a 360 degree cleaning giving you flexibility to reach the inaccessible corners of the window glass.
This cleaning kit is available on Ebay.  Follow the instructions on the box for using the tool, it's a simple and easy.
Other kits such as the Windex All in One Glass Cleaning Tool are available on websites such as Walmart and Ebay for consumers to ease their window cleaning on the outside.
Magnetic Window
Cleaner system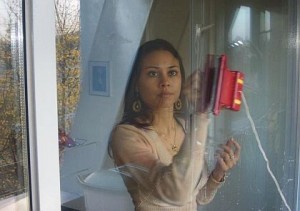 A magnetic window cleaner uses powerful, ultra-strong internal magnets that lock both parts of the product together through the glass. Each part of the magnetic cleaner has a rubber squeegee and a cleaning sponge.
You just place one part of the magnetic cleaner on the outside of the wet glass, and place the other part against it on the inside. Move the inside cleaner, the outside cleaner follows. There are cleaning units available at Amazon and other online shopping sites that clean both single pane and double pane glass.
And for those who are D-I-Yers and would like to save a buck or two, you can actually make this magnetic cleaner at home yourself. Here's how –
Get two cleaning sponges, a knife and two magnets.
Horizontally create a small cut in the center of the sponges and stuff your magnets into it
Seal the small cut where the magnet has gone through
When putting in the magnets, ensure they are of the opposite poles.  It's that simple!
Regardless of the tools and aids available, cleaning is certainly a chore and for those who are hard pressed for time or find this task extremely tedious there's another option….
Alternative Method
For homeowners who dread the exterior cleaning trouble and wish for a permanent solution can opt for glass treatment options such as plywood installation or tinting which obscures the dust particle accumulation to the naked eye. Here's a post on some insightful ways to protect Window Glass
Living in high-rise flats, sometimes all we want is a clear view – windows open or shut. We cannot go against nature. She has wind, rain, dust and haze too! Getting your windows dirty on the outside is inevitable. While there are solutions to keeping your windows clean from the inside and outside as well, sometimes all it takes it a little effort to keep your windows sparkly clean on the outside.
http://window-grille-door.com/wp-content/uploads/u-shaped-brush-360-degree-cleaning.jpg
454
500
Barkha P
http://window-grille-door.com/wp-content/uploads/logo3.jpg
Barkha P
2016-01-15 09:00:04
2015-11-30 03:45:51
Window Cleaning on the Outside