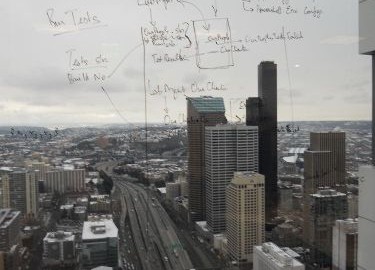 Window glass as a whiteboard
Window glass as a whiteboard?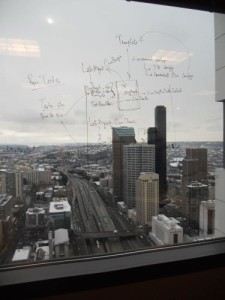 Have you ever noticed traits of the best public speakers or work place presenters? They can crack impromptu jokes, handle any query with equal finesse and best of all, is when they are able to use any available resource to their advantage. It was one such ingenious adaptation that caused the birth of the Glass Whiteboard!
Glass whiteboards are whiteboards made of glass or even simpler – they can be your office or study Glass Windows that double up as whiteboards wherever you go! Sounds interesting? Let us tell you more…
Glass whiteboards are made of tempered glass and are mounted on steel brackets so are sturdy and durable. Regular use of dry erase or grease markers does not damage the surface due to the tempering treatment.  Since most glass whiteboards are available without a rim or framer, they can be written on from one edge to another, offering a wider work space. They are also available in various coloured glass to match your interiors.
Why is a glass whiteboard better than a regular whiteboard?
It has been proven that visuals create a better and more long lasting impression than audio stimuli. The classy glass whiteboard is slowly gaining immense popularity due to the complete ease in which one can create what they desire on glass. As soon as the marker comes in contact with the glass, you will feel your creative juices flow. The transparent surface offers a sense of freedom unlike a white board.  Due to the crisp and clear surface, there are no distractions and one is able to communicate ideas more effectively and freely.
However, coming back to basics… Glass is the best material for dry erasable or whiteboard markers. The ink slides on and wipes off just as easy. It's a great space saving idea and looks new age too. There's more – Glass is a much better option than an actual white board as it can last much longer without staining.  In today's flexible work places, this kind of innovation works wonders.
Using your Glass Windows as a white board
If you wish to transform your conference room window into a whiteboard, then plan your office décor in that way.  All those seated around the conference table should be able to view the whiteboard window well from their vantage point.
Your study or kids bedroom window can be used as a whiteboard to make learning fun. Instead of investing extra in an additional white or black board, use the window to save money and also wall space.  In your kitchen, you can jot down your grocery list on the window glass as you recall while you're busy.  You may even use the window to leave messages for the family!
So whether it's a glass whiteboard or a glass window being used as a whiteboard, glass is the latest and more preferred surface for any kind of whiteboard usage.
But don't take our word for it… Experience it for yourself!
http://window-grille-door.com/wp-content/uploads/Using-Window-as-a-Whiteboard-WGD008IN.jpg
500
375
aekjobs
http://window-grille-door.com/wp-content/uploads/logo3.jpg
aekjobs
2014-08-15 03:05:00
2014-11-13 07:18:05
Window glass as a whiteboard